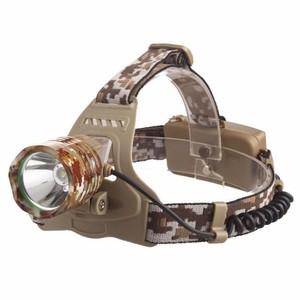 Most preppers have at least considered using a headlamp, and for good reason. They are inexpensive, lightweight and handy as H E double hockey sticks! But they also have some downsides as many who have used them can tell you. Personally, I would recommend them. The above picture is from the website where I ordered mine and I wouldn't give it up for anything, but at the same time, wouldn't always reach for it when venturing out into the dark. Here are my reasons...
Advantages:
Keeping both hands free. I can't name all the times that I've used my headlamp for this reason alone. Washing dishes during a power outage, working with wiring or plumbing under the house, anytime you need illumination and both hands free for use.
Bright light. Today's headlamps most often use cree LED lights which are super bright. If it has intensity settings even better!
Aimable light. Most models come with a tilt feature that lets you aim the light downward for tasks such as reading. Some also have a zoom feature which can help concentrate the illumination to one spot.
Disadvantages:
Insects. Ever notice how bugs are attracted to your porch light at night? Try strapping one to your forehead and see what happens. Trying to light a fire outdoors in the dark wearing one of these can be an exercise in frustration...ask me how I know.
Indiscrete. If you're trying to be hidden, good luck!
It's on your head! Talking face to face with someone wearing a headlamp is annoying at best.
Considerations:
Power. Try to get a headlamp that uses a battery size you commonly use and stock. Obviously rechargeable batteries have their advantages and many headlamps come with a charging port for car lighter or USB adaptors. The one pictured above uses 18650 lithium batteries which I use for quite a few applications and has a port that I use to charge with a USB cable.
Tilt/Zoom. You may not realise just how handy these two features are until you own and use a headlamp.
Price. Dollar store models don't last. Also, the old style bulbs in them really eat up batteries. However, you don't need to spend $100.00 up for a lamp that does the trick and lasts. Beware of fancy models with multiple heads and tactical designs often found on EBay.
In conclusion, having a headlamp has been a smart investment. Handy in many situations and a fairly inexpensive prep. (mine cost about $12.00 from EBay, not including batteries and charging cable).